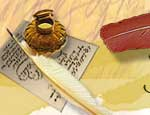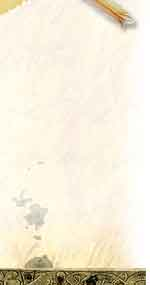 WORKSHOP: Voluptuous Vining
WHO: Harvest Crittenden
WHEN: Saturday & Sunday, January 20 & 21, 2007
TIME: 9am to 4:30pm
WHERE: Village Corner Restaurant, Stone Mountain
6655 James B. RiversDr.
Stone Mountain. Ga 30083
COST: $85
Get your deposit in to secure your place! Call 770 413 0841 or at [email protected]
COURSE DESCRIPTION:
Vining flourishes add interest and elegance to the written word. Harvest Crittenden is an accomplished calligrapher who uses vining to enhance hwe reations and give them added life.
Discover the secrets of creating full bodied, voluptuous vines. We will start with easy steps and go over the basics of color, shape, layout and design of simple vines. We will build up to more intricate vines and winding vines through text and initials. We will have many samples to practice coloring in, and proceed to doing your own initial
with a vine around it.
SUPPLY LIST:
To be announced