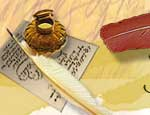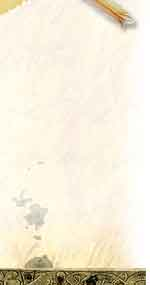 CALLIGRAPHY GUIDELINES
Calligraphy Guidelines to print for use in your own practice.
CHANCERY ITALIC CALLIGRAPHY GUIDELINES from Accord Publishing
COPPERPLATE CALLIGRAPHY GUIDELINES created by John Butler, presented in tabloid size

These templates are Adobe PDF files.
If you do not have Adobe Acrobat, it is available as a FREE download from Adobe at http://www.adobe.com/products/acrobat/readstep2.html. This reader is not a virus, it is not signing you up for any mailing list, it is not adware or spyware. It is merely a safe, useful browser utility that will allow you to read PDF files from any web site. You need to have this utility! It is a good thing!
To save these PDF guildelines to your computer:
RIGHT CLICK on the link
select "save target as"
a computer directory window will pop us allowing you to choose where you would like the file to be saved
select the directory to save and click "open"
the file wil be saved to that directory and you can open it with Adobe Acrobat PDF reader
To print guidelines to be letter size, have the acrobat reader scale it uniformly to preserve the 54 degree angle:
The exemplar font is Bickham Script Std and can be ordered from Adobe at their site:
http://www.adobe.com/type/browser/P/P_1421.jhtml
John Butler is building more guidelines for other paper sizes and other hand proportions in the future.